Why is Creating Perfect Skincare So Hard?
(Because when I say perfect, I mean perfect!)
The old adage goes, "Do what you love and you'll never work a day in your life." I saw a notebook recently with it like this: "Do what you love and you'll never work a day in your lifework super hard all the time with no separation or any boundaries and also take everything extremely personally."
I've had a lot of jobs in my life and nothing comes close to the love, pride, and pure joy I get creating True North products and building this community. But omg… it's hard. And probably the hardest part about this all is that it doesn't have to be so much work. But that's just not how I want to build this business. I could easily outsource the formulation and packaging. I could buy ingredients from a larger vendor instead of sourcing and harvesting them. I could have it shipped to me premixed in pretty bottles and just pop my labels on it.
And a lot of the time, I wish I could be that type of business woman. (So does my husband, LOL!). But to be honest, I don't make skincare so I can see my name on a pretty bottle. I do it because I truly believe that using natural ingredients, specifically Chaga, can improve the health of your skin. And with healthy skin, you can do anything. (I know it sounds dramatic, but I'm not exaggerating. With clear, bright skin, you have the confidence to take on the world!!)
So, what goes into making the products I love and want to share with you?

Real talk: I've tried a million skincare brands and nothing is the right fit. So, if I'm going to go through the trouble of learning, formulating, crafting, and creating the perfect skincare, I have to know why it's better.

Let Me Try to Make a Long Story Short.
It all starts with problem solving. (Wait, before you stop reading, I promise I won't go into math equations!) The problem is more like the challenge of finding the perfect dress. You can try on a million different dresses until you find one you like, or you can get exactly what you want with the perfect fit by learning to read patterns, measure, sew, finding what shapes look good on you and the power of a good angle, stitching, and buttons, and create your own fairy-tale worthy dress. That's what I do with skincare.
Real talk: I've tried a million skincare brands and nothing is the right fit. So, if I'm going to go through the trouble of learning, formulating, crafting, and creating the perfect skincare, I have to know why it's better. This means lots of research, learning, testing different ingredients and formulations, failing (a lot), asking friends to try, and doing all of this in circles until I get it right. The difference between this and my dress analogy is that I'm not making a dress that only fits me. I am making skincare that I want to fit you, too. I want to know how ingredients react with sensitive skin, dry skin, oily skin, your skin. I don't want someone else's tried and true methods. I want to try them, make them true, and use ingredients that I personally source and bottle formulas I personally mix.
This means a lot of time in our micro-headquarters, in a lab coat and goggles, measuring and weighing. Not nearly as sexy as watching the Kardashian sisters just smell different bottles to 'make' their perfume. But, I'm not trying to Keep Up with the Kardashians. I'm trying to deliver small-batch, locally sourced, natural, cruelty-free skincare made with quality ingredients that meet the highest purity standards.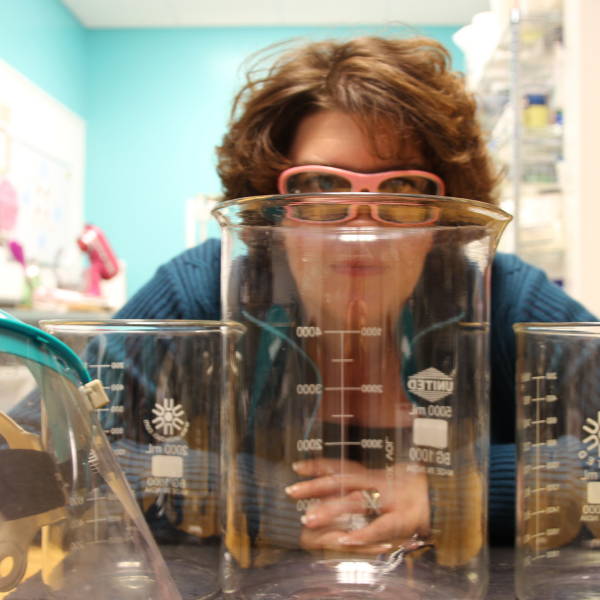 It doesn't hurt that my husband and I also have a combined 50 years of experience in manufacturing thanks to our career backgrounds before we started True North. We were able to apply this knowledge to developing processes that help us do everything from source ingredients, formulate, mix, bottle, package, and ship all from our solar powered facility. When we were awarded Maine Small Business Manufacturer of the Year in 2020, it was enormously validating that what we were doing was the right fit. It's not the easy way, but doing it our way, knowing beyond a shadow of a doubt what is in each and every bottle and that it was handcrafted personally by me, is the only way I can take pride in 'owning' something.

You know what else makes it all worth it? YOU.
Honestly, I think of you every step of the way. It goes like this:
What products do you need? (And I mean really need.)
The beauty industry is full of duplicative products just so you'll buy more, more, more. Not here. If I make something, it has its own unique purpose and was created for distinctive and necessary benefits to your skin (and soul!).
What ingredients do I use to get you quality, effective skincare with the greatest benefits?
This is hard because I can't just choose ingredients I love and smell nice (just because I am not Keeping Up with the Kardashians doesn't mean I don't think it would be fun to manufacture like they do!). This part takes a lot of research! Are the products clean and effective? Can I guarantee the naturally derived ingredients are safe for all skin types? Does the chemistry work when these ingredients are combined to bring out the effectiveness of each? I have to study the ionization and emulsification of these products together (yeah, that took a lot of learning!).
What will it feel like for you?
And this isn't just about how it goes on, but how does it sink in to your skin? What's its staying power?

What kind of container is best to deliver this texture to you?
And how can I make sure this container fits our aesthetic but doesn't comprise the texture and ingredient panel when transferring to your skin?

Can I formulate successfully to guarantee the chemistry works in small batches and is scalable?
I'll start by making 2 oz. and trying it on myself, my husband, my friends, then send it to a lab to test purity standards. If it passes all these check points, I can start formulating it up to 500 oz.

After we've scaled it, tested it, and perfected it (if you know me, you know this takes the longest amount of time because to say I'm a perfectionist is the understatement of the year!), we send it to a larger lab to be tested again for purity standards.
And this is why they say that launching a product is like giving birth. Because sometimes it does take nine months from conception to delivery. But unlike the mother of a human child, I know my 'babies' aren't perfect. I made these products for you, so what you think and recommendations you have for changes and improvements matter to me. As long as I have my name on this company, I will continue to individually source every ingredient and personally formulate products made using Chaga from our community in Northern Maine and delivering quality products that can change your life.

So what do you think? Does the dress fit?
Follow us, share your thoughts with us, and comment when you can so we can continue to create quality, locally sourced, effective skincare that is perfect for you!