Do You Need Seasonal Skincare?
Switching skincare rituals between seasons, between genders, or at different ages never really made sense to me. If you have the right ingredients, a single skincare product should give your skin what it needs without several steps and confusing instructions. This has been my belief in building True North Beauty from the start. That's why our nutrient-rich Chaga-infused skincare delivers hydration and antioxidants while protecting you from harmful environmental effects, no matter who you are or where you live.
But using only one product for your whole life is boring, am I right? I founded True North, and I still want to try out new creams, scents, and serums throughout the year. Skincare should be fun!
So, even though our signature products provide you with exactly what you need for healthy, clear skin, the fact is: it's fun to mix in new products to support your skin's health. And anything we can do to mitigate the damage that weather, age, and environment does on our skin, the better.
That's why I've had so much fun creating the Seasonal Skincare Boxes. These eco-luxe bundles are specially formulated with seasonal ingredients to support healthy, clear, and radiant skin based on our skin's unique needs. Our skin's ability to retain moisture and block harmful pollutants varies throughout the year. That's why we offer skincare that gently exfoliates skin in the fall; locks in hydration in the winter; protects from UV damage in the summer; and prepares sensitive skin in the spring is an important – and exciting! – part of our formulation process at True North.
Knowing that our signature items deliver the powerful cleansing and ultra-moisturizing nutrients you need year round, we created complementary products that take the extra step to support healthy skin cell regeneration, hydrate, and nourish where your skin needs it most. And we designed them to be used together with our signature products, for a fun spa-like experience for your daily skincare rituals.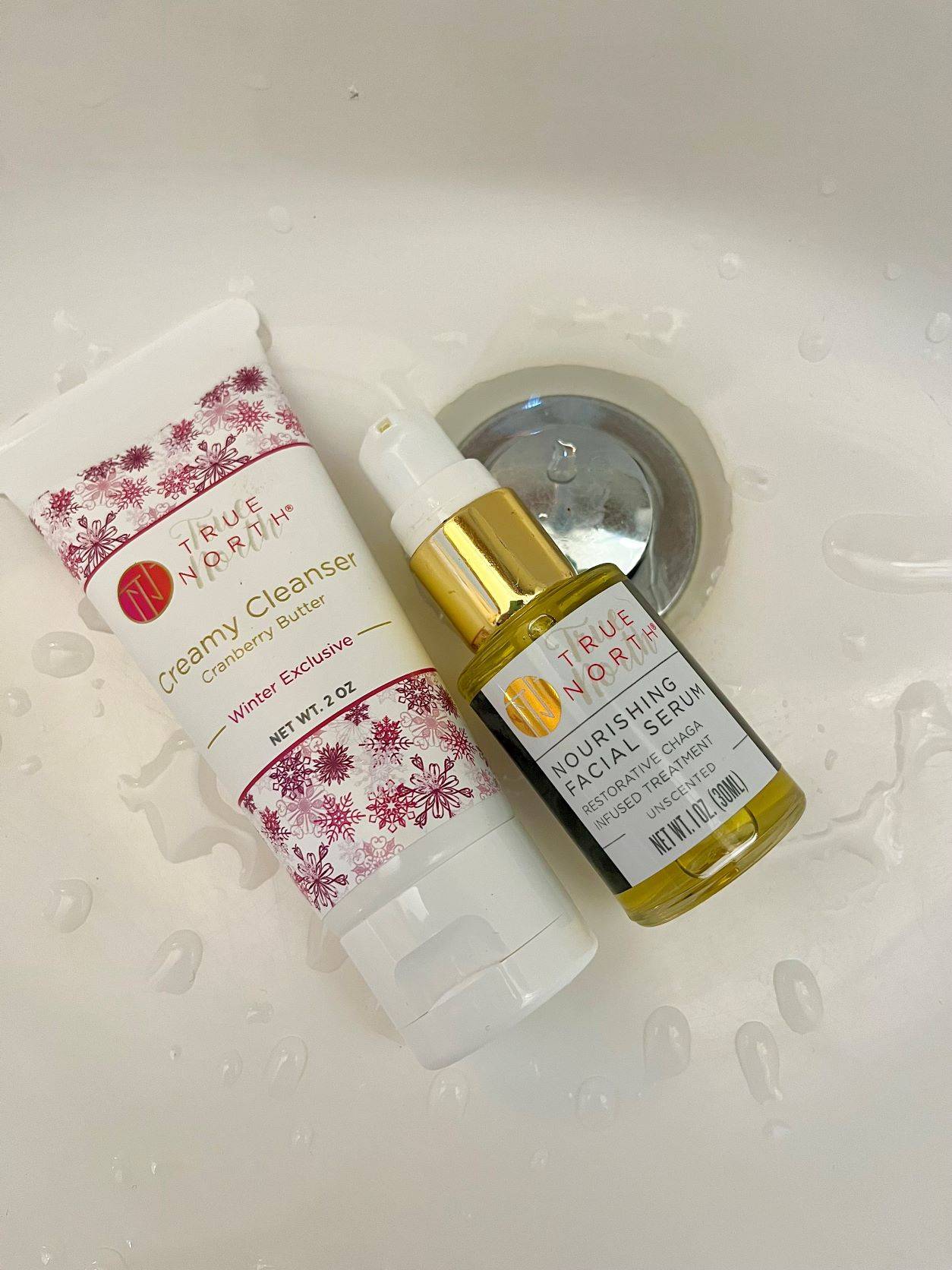 In the Winter Box, these Calm and Cozy products perfectly balance our signature products. Here are a few fun ways to incorporate the deliciously warm and nutrient-rich winter products into your daily routine:
After using your Cleansing Oil, follow up with the Cranberry Enzyme Soothing Mask twice a week. This gentle mask harnesses the powerful properties of hearty winter ingredients like cranberry and Chaga to deliver moisture deep below skin's surface and create a powerful layer of protection from dry winter air without the aggravating effects of scrubbing.


Before hitting the town in your gorgeous Tinted Lip Serum, prepare lips with our Lip Polish and Lip Balm duo for long-lasting softness. The Lip Polish is formulated with delicious sugar crystals that not only taste and smell delicious, but slough off dead skin and protect lips from cracking. The Lip Balm is made with lanolin and beeswax to seal in hydration and protect lips from losing moisture. Perfect to hold your beautiful color or wear alone for a dewy, soft glow.

Switch up your evening ritual by using the Cranberry Creamy Cleanser for an extra boost of hydration and gentle exfoliation after a long day. A perfect way to unwind, this gentle cleanser has sweet, tart notes of cranberry and uses the powerful properties of cranberry enzymes and Chaga to wash away the day's grime and stress. Perfect to use before your Be True Facial Serum for clean, healthy skin and a relaxed night's sleep.
Mixing and matching effective skincare is the best part of my day, and I'd love to hear your favorite combinations! Do you have a Winter Box? How are you including the products in your True North ritual it to keep skin healthy, hydrated, and clear and your energy high! Let us know on Facebook! We'd love to share your ideas!