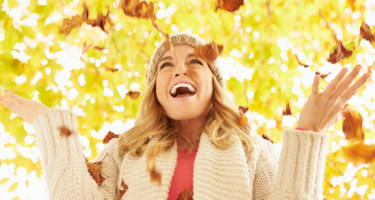 Fall Skincare Tips
to Keep Your Skin Glowing All Season Long
The leaves are changing color, the air is getting crisp—there's no denying that fall is in full swing. And while we love all things pumpkin spice, cozy sweaters, and long walks in crunchy leaves, this time of year can also wreak havoc on our skin. Dryness, dullness, and redness are all too common as the weather changes. But don't worry, we've got you covered with our top fall skincare tips to keep your skin looking and feeling its best all season long.
1. Cleanse Morning & Night
The first step to any good skincare routine is cleansing. And in the fall, when skin is more likely to be dry and irritated, it's important to use a gentle cleanser that won't strip away natural oils. We recommend using a creamy, oil-rich cleanser like our fall-inspired Pumpkin Creamy Cleanser morning and night. This whipped, velvety smooth cleanser is infused with pumpkin extract, mango butter, and Chaga-infused oils to soothe dryness and leave skin feeling soft and refreshed. Plus, it's free of harsh chemicals, sulfates, and of course cruelty-free —so you can feel good about what you're putting on your skin.
The cleanser smells and feels amazing!" - Nicole K.

1. Cleanse Morning & Night
One of the best ways to keep your skin looking healthy and radiant is to exfoliate regularly. As we age, our skin cells turnover at a slower rate, which can lead to dull-looking skin. Our Pumpkin Enzyme Mask in the Fall Skincare Box gently and naturally sloughs away dead skin cells and clears away impurities from pores. Not only will your complexion be brighter and smoother, but your skincare products will also work better. Exfoliating a couple of times a week will help to prevent clogged pores and breakouts, so it's a win-win!
Once you've cleansed and exfoliated your skin, it's time to moisturize! And our Hydration Cream is the perfect pairing. This luxuriously lightweight and fast-absorbing moisturizer will help to seal in moisture, protect your skin from the elements, calm redness, restore balance and promote the appearance of elasticity and firmness. Use in the morning and at night for the perfect amount of hydration year around! And don't forget about your neck! Your future self will be happy you moisturized there too. By taking this small step each day, you'll be on your way to achieving healthy, radiant skin.
4. Schedule A Beauty Chat
Still wondering where to start this Fall? Don't worry! We offer a no cost, personalize consultation with Brittney, our in-house skincare experts. Book a Beauty Chat today for a personalized experience!
To join our mailing list and never miss a skincare update!



By following these simple fall skincare tips, you can keep your skin looking and feeling its best all season long! Remember to cleanse gently with a creamy wash like our Creamy Pumpkin Cleanser; gently exfoliate with our Pumpkin Enzyme Mask and moisturize with our always popular Hydration Cream.